Rotadent Electric Toothbrush
Find it here! "Rotadent electric toothbrush" can unleash a small stream of results when you key it into any search engine, and you'll mainly find that it's a unique concept and way to do toothbrushes altogether. Let's see what else we can find out about this type of electric toothbrush, as well as its founding brand... please read on.
The Brand
Rotadent Pro Care is the parent seller of these toothbrushes, and it offers a few things that other sellers do not: For one, we're talking about an unordinary toothbrush that offers extraordinary brush head designs, three in particular, which are made to enhance your overall oral care experience by milestones. Here's how this works; the products work for all types of patients, respectively, and are specifically known for being able to reach even the toughest spots with maximum effect, all in all.
Rotadent Electric Toothbrush - The Products
"Disease control" is the middle name of these products, and there's 4 we're specifically going to cover here. One of these four is currently available for ordering, but the others may be back in the market quite soon. And that's the first one we're going to talk about…..
Rotadent Pro Care
The Rotadent Pro Care toothbrush is the latest version now made available --- and guess what --- it's so special and premium, in highest demand, that you can only get it through the recommendation of a dental care professional who sells it. That's right; it's not out on the market "for just anyone". You need to have a special need for it or show your interest upfront……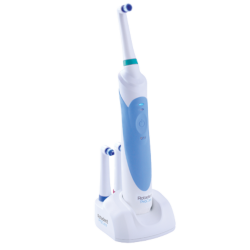 This toothbrush comes in short-tip, hollow-tip and long-tip brush heads, letting you choose which may be the perfect replacement for your needs. In addition, it's designed for a better home care experience, all in all; its MicroFilaments use 360 degree rotations to gently but firmly wipe away up to 92% of all oral bacteria and plaque that's been festering inside --- now that's potency you can't put a price tag on! And speaking of price, you can get each replaceable head online for appx. $22 each --- speak to your dental provider as to the price for the actual brush itself, and he or she may be able to offer a discount if you've been a long-term patient.
And guess what the best part is: Within the very first 60 seconds of your brush strokes, this potent toothbrush will have already worked to remove up to 92% of such nasty oral assailants mentioned. Not only that, but this brush has become the only clinically proven one to multiply the combined effects of brushing and flossing, together into one package ---- how insanely awesome is that fact? Plus, its one-step system, when you really stop to think about it, makes the process a whole heck of a lot more streamlined and simple overall, especially when your home care routine is already difficult and tedious enough. So get a brush like this, and it should help with all of that.
Rotadent Contour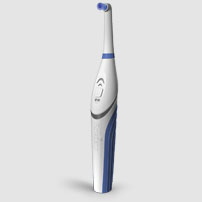 Next we have the Rotadent Contour , a product which experts do not know when it'll return to the market, if it will. Nonetheless, it's offered exceptional value in the past, and some continue to praise it. Online retail sites from third parties sell used, past versions of it online, for 'true fanatics'. It comes with the same three brush head types mentioned just earlier, each listed at the same price online. These you may buy from Rotadent itself as well; some dental suppliers still sell the product itself online or by direct order through them, as well.
Rotadent Classic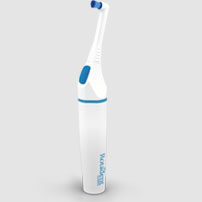 The Rotadent Classic , an older brush with a more traditional feel, also offers what the Contour offers. Except it offers two types of hollow-tip brush heads instead of one, plus a long-tip and short-tip brush head. Any four of these you can get online for $17.25 --- Rotadent still sells these, as well….so if you need a brand-new one (which is our recommendation, of course --- don't get a used brush head even if it's highly discounted online), you know where you can get it. Also, its purpose is fourfold: orthodontic, esthetic, restorative, and implant-effective. This means you can benefit from it, regardless of the specific need in question --- whether you need to minimize decalcification or staining, offer support and gentle strokes to sensitive gums or veneers, crowns, bridges, fillings, restorations, effectively working around new implant surfaces, or for anything else.
Rotadent Plus toothbrush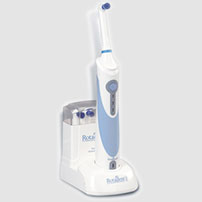 Now, last but most certainly not the least of these on the list is the exceptional Rotadent Plus toothbrush . Like the others, it's still available only in some online eCommerce sites, as well as through various private suppliers and dental professionals alike. It comes with its own charger and base, as do the others, and three types of brush heads, selling at appx. $40.50 each: the long-tip head, the short-tip head, and the hollow-tip head, respectively. It provides you with a sense of inner oral achievement in knowing those pearly whites of yours, even those rear ones in the way back of your mouth, will always be taken care of --- like the others, it gets to 'tough spots to reach' and attacks the source of the oral disease.
Rotadent Electric Toothbrush - The results
Each brush head carries nearly 5,000 MicroFilaments within it. These, if you're curious, are proprietary bristles measuring ⅓ of what the traditional brush will, at least in width. This means they can more properly access areas that could otherwise be harder to reach, the result being a whiter smile and a fresher breath, in addition to a constantly cleaner, healthier set of gums, teeth, and mouth. Between the teeth and below the gumline, there are some very "easy to miss areas", but these brushes get them perfectly, so you won't miss a spot.....
More
We've seen these amazing home care instruments, which are all doctor recommended and approved. Now it's your turn. Will you buy, or would you prefer something else? It's all up to you: Remember to account for cost, benefits and other factors before making your final selection on an electric toothbrush. Happy spending!
Learn more here: Rotadent Electric Toothbrush