BEST Toothpaste to Prevent Cavities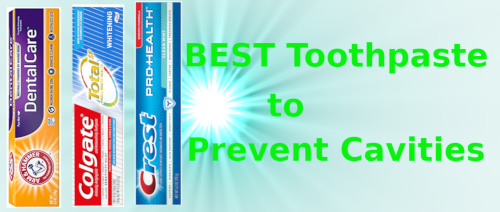 If you want to prevent cavities you will probably want toothpaste with fluoride. This has potential advantages and disadvantages ( See our article here ) but if your goal is simply to prevent cavities you really should go with fluoride.
Here are the top picks, in order, according to Ericsson Dental:
Colgate Total
Crest Pro-Health
Sensodyne ProNamel Gentle Whitening Toothpaste
Arm and Hammer Dental Care Advance Cleaning Mint Toothpaste w/Baking Soda
Tom's of Maine Natural Anticavity Fluoride Toothpaste
Crest Tartar Protection
Tom's of Maine Simply White Clean Mint Toothpaste
BEST Toothpaste to Prevent Cavities
My own personal secret method is to alternate between Colgate and Crest. Use one in the morning and the other in the evening before bed. I would also recommend getting Arm and Hammer to use twice a week. Basically pick two days out of the week ( Monday and Thursday for example ) and on those days you would use Arm and Hammer instead of your normal toothpaste. I have no idea if this really works and I can't really measure the results but I feel like it is probably more effective.
References